HOSPITALITY TV
LET'S TALK ABOUT WHAT WORKS
THE SMARTBOX
---
The SMARTBOX
….
Truly a game-changer when it comes to HDTV distribution. Using less space and under 600 Watts of total power consumtion, you may start to rethink
TV Programming for your business
Signal Reliability……?
3-Years in a row, Awarded by JD Powers with having the most reliable signal on the market and the best customer service. 4th quarter of 2020, Dish Network had a signal reliability of 99.7%.
The Smartbox Will:
Works over your existing Infrastructure
Integrates with property channels
LIFETIME Warranty
Backed by our 24/7 Support
SMARTBOX
Delivering HD programming without the need for rewiring or receivers in the rooms
EVOLVE
EVOLVE Evolve is the only In-Room Entertainment Solution personalized by guests and powered by their content!
DIGITAL SIGNAGE FOR ROOMS
Bring the most to your property with our in room Digital Signage. Display your own content on a designated channel for all your guests to see.
Special Offer
$2.00
(leasing per month)
No Monthly Service Fees or Additional Programming Fees
Offer is limited to 1 Evolve Box per room (additional boxes can be purchased)
Must have America's Top 120 Programming or Higher with HD
Offer only applies to 40 rooms or more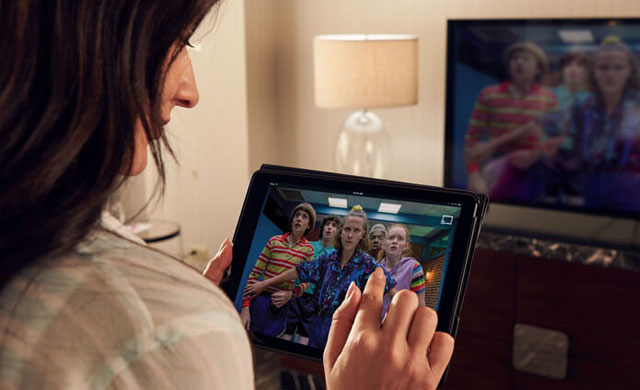 Let guests bring and cast their own content.
Powered by Android TV™ with Chromecast built-in, EVOLVE makes it easy for guests to cast and stream the music, movies, and shows they love to the in-room TVs.

Digital Signage Made Simple
Our digital signage is simple to use
with the end-user in mind. Comes with
managing software that helps you
schedule out your content, 7-days
ahead. Display your Activities, Food
Menus, New Members, Weather, COVID
messages and so much more! Each
property that is installed with our
Smartbox & Support Package will have
a FREE Digital Signage Player and
Managing Software to go with it.